Let's take a look at some RAYNET CRM features our customers love using.
1. Interlinked contact database
Accounts, Contacts, and Leads in one system that lets you further work with everything you input. A system that helps you keep track of the customer relationship history. Always know what you have done, discussed or earned. All that in a user-friendly interface that frees you of the need to go through countless paperwork to find a single piece of information. 
2. A calendar with a mind of its own
Need to schedule a meeting but don't know if a colleague is free? The calendar tells you everything you need to know in just a few clicks. You can set it up so that all colleagues can see each other's calendars and never double-book again.
Sync your Raynet Calendar to your Google Calendar and edit your activities directly from there.
Color-code your activities, take the time to write down the outcome of a phone call or a meeting, link activities directly to the records they relate to and watch the record history fill up. In a while, when you are trying to remember what has been discussed with one of your customers a few months, or even years ago, you will be glad you used RAYNET to store all this information instead of trying to remember every little detail yourself.
3. Dealing with deals
Create a deal in RAYNET for each job you are working on and set your own deal stages (e.g., Prospecting, Identifying Needs, Negotiations, Contract Signed, Before Closing). This gives you a perfect overview of all jobs in progress and their potential revenue. It also helps you with production planning, cash flow, or business strategy optimization.
Create deals for multiple accounts at once or create a series of deals – this lets you keep track of the revenue from subscription based services, for example. There are almost unlimited possibilities when it comes to storing data about your business dealings but more on that in section #4.
Also worth mentioning is our kanban business board. Effectively manage your sales process and get a visual representation of all your deals. You can highlight any deal you want or freely move it from one stage to another.
4. Custom fields for all your needs
Not all businesses are the same. A large real estate company might need to store completely different data than a small catering business. Well, in RAYNET you can do just that – create custom fields for any record type. Accounts, Deals, or Meetings can have a series of custom fields that you yourself can easily set up and then start collecting all the information you need that is specific to your business. Sales rep commissions, identity numbers or perhaps contract renewal dates.
5. Everything at your fingertips with our mobile app
Have your whole business in context with you wherever you are currently working. Your entire contact database, your calendar, deals, notes, two key analyses right on your Dashboard and much more.
Getting a new contact to your CRM system doesn't have to be a headache. The Scan Business Card feature can, as the name suggests, scan the data on business cards, upload it to RAYNET and sort it out.
When you need to quickly take notes, photos, or record something on the go, give the Quick Note feature a try. All quick notes you send from your phone can then be found on the Dashboard in the desktop version of RAYNET, where you can process them or convert them to any record type when you have more time.
We have developed the app with one main goal in mind – to make our users' lives easier. That is why we went with a simple and user-friendly interface that will not overwhelm even a first-time user.
Get in on Google Play or the App Store.
6. Custom templates for exporting documents
Choose from our pre-made templates for documents you and other users in your CRM system can export and send to customers, or create your own template from scratch.
Our customers love using templates because what would be the point of moving your business towards digitalization but still typing up every quote or contract manually? Save yourself the hassle even "digital paperwork" can bring and let RAYNET pre-fill your documents with information that you have already input into the system.
7. Assessing, comparing, and forecasting with the analyses feature
Get right into all that in the analyses section of the CRM system. This feature gives you an insight into what is happening with your business at all times. There are 14 analyses in total as of now. Each one of them will tell you valuable information you can utilize in practice.
See which deals are being worked on and how much profit you can expect at the end of the selected time period. Find out which of your products are doing well in terms of sales. Compare sales reps by their success rate, sales, or the number of completed activities. These are just some examples of thing you can track, but keep this in mind; if a piece of information is stored in RAYNET, you can learn how it affects aspects of your businesses, see it in context through analyses, and use it to your advantage.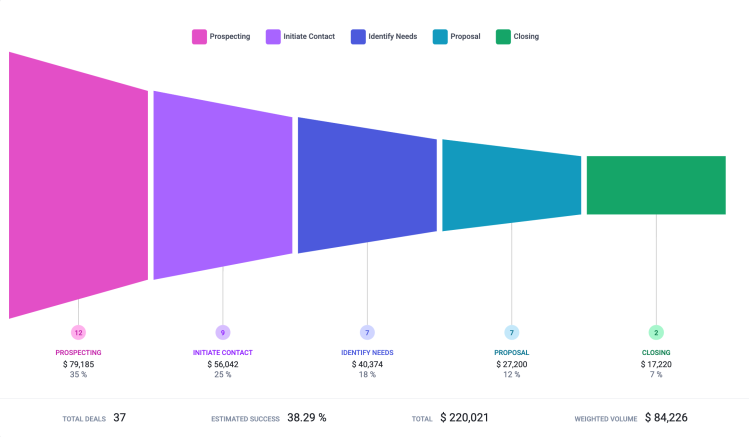 8. Endless possibilities with list views and advanced filtering
Imagine you want to see all the interesting deals just waiting to be closed. How do you get them all to show up right next to each other, so you can take care of them on the spot and don't waste time rummaging through spreadsheets or pieces of paper to find what you need? Advanced filtering in list views will take care of that for you. All you need to do is select the criteria these deals should meet, in this case, you can select accounts with overdue activity, with a deal in the stage "Before Closing", and accounts with a turnover of over $150 million. You can of course save any combination of filtering criteria and use it again at any time.
Customize the information you want to see in the lists themselves. If you do not need to see, for example, company addresses every time you open the list of accounts, because you do not deliver products or do in-person meetings, but you do provide online services to clients, hide this column and add something that is more specific to your own business or role in your team.
Schedule ten meetings at once in a few seconds, create deals containing the same products for multiple accounts, or change the owner of some records when you need to delegate work to your colleagues. Mass actions in list views are a real time-saver.
9. Identify, discuss, and solve with the discussion feature
The discussion feature is used for sharing information about specific records. You can use it when you need to share something about an account, or perhaps a deal, with some of your colleagues and brainstorm together. Get reminded about new posts in the discussion via a notification directly in RAYNET or add a panel to your Dashboard with all ongoing discussion feeds. By using the discussion feature, you will have all communication with colleagues in one place – including attachments – eliminating the need to forward emails.
10. Notifications that keep you in the loop
Know about everything that is important to you thanks to notifications. Get reminders in time for your upcoming activities and have an up-to-date overview of any changes made to records. If a colleague reschedules a call, cancels a meeting or assigns ownership of an account to you, this information will not simply vanish into thin air. RAYNET offers a variety of notification types. Notifications in your desktop CRM system, in your mobile app, by email, by summary email that you can read through once a day, and even directly in your browser. On top of that, as roles in a team can vary, each user can set up which notifications they want to see, so they don't get bombarded with unnecessary information that does not fit into their job description.
Take advantage of these RAYNET CRM features and discover many more for $25 / user / month. For a piece of software that helps you sell more, worry less and save time? That's a no-brainer!