We know from practice that there are similar prejudices about CRM as about most IT systems. Under them, companies imagine complex tools full of confusing tables that will take months to learn to use. The truth is that CRM should be the exact opposite. It must be clear, intuitive and simple to make (not only) traders' work more efficient. In the article, we will show you how to get to know a simple CRM.
What is a simple CRM and who is it suitable for?
There is no definition of a simple CRM in any wise book. From our experience, however, most companies envision a simple CRM solution that is:
cheap,
cloud,
users will find their way around it quickly
and includes all the necessary functions to streamline the business.
Sometimes we come across the opinion that a simple CRM is mainly for smaller companies. In practice, this is not the case. Although a simple CRM is ideal for them, it is increasingly being used by large companies and multinational companies.
The advantage of a simple CRM is its efficiency - it can be implemented quickly, employees learn to work in it quickly and their attention is not distracted by unnecessary functions
So a simple CRM will mainly appreciate:
small and medium-sized companies,
large companies that do not need customized functions,
large companies that want to avoid a robust solution with a long implementation and high initial costs.
On the contrary, a simple CRM is not suitable for companies from specific fields that require advanced functions and customized system modification.
How to recognize a simple CRM
When you are looking for a simple CRM for your company, you can recognize it primarily by the following 6 features:
1. Simple implementation
Some company tools will pause or slow down your work for a few days due to implementation. CRM shouldn't be like that. You can start a simple cloud CRM in a few minutes, and you can handle the initial import and settings in an afternoon.
When implementing a CRM, you can expect:
Registration – You don't install anything with cloud CRM. You just register and access CRM from a web browser.
Settings – To begin with, you can adjust user rights, set up your business process or fill in company information.
Data import – Upload client contacts, leads or business cases to CRM. In our RAYNET CRM, import templates will make it easier for you. But you can also quickly handle entering contacts manually, because CRM downloads most of the data for you from the company register.
Adding colleagues – As an administrator, you add to CRM all colleagues who will work in it.
Orientation – You usually don't need training to master a simple CRM, just watch a few video tutorials from the vendor.
You can do all of the above in a few hours, and you can make any further adjustments to the settings in no time.
2. Automation and simplification of processes
At RAYNET, we like to say that CRM is here to help marketers spend less time on paperwork and more time meeting with clients. Therefore, every simple CRM contains functions that automate or at least speed up regular processes.
Most often, these are activities such as:
Document creation – You can create an offer, order or calculation for a job with one click. All data is downloaded into the document from data in CRM.
Recording everything - You enter the event in the calendar directly from the client, the data is pre-filled when creating an order, or e-mails from clients are automatically downloaded and assigned to the address book. And these are just a few examples of how CRM makes data recording more efficient.
Creation of reports - Reports can be viewed in clear graphs in a few clicks.
Signing contracts - You can sign contracts with the client electronically and with all legal validity directly in CRM. This is not quite standard yet, but maybe our RAYNET CRM will make it easier.
Invoicing – After connecting to your invoicing tool, issue invoices directly from CRM.
The magic of a simple CRM is that it includes all these goodies without overwhelming you with a complex interface with a million options. It is not an ERP system. You create a calendar event from the address book and a business case that arose from a meeting directly from the calendar. One step seamlessly follows another.
3. Clear visualizations
You can recognize a simple CRM by, among other things, the fact that it serves you data in the most digestible form. You can view business results in colorful pie charts and adjust them according to your needs in real time using filters.
But it is best to test the clarity of CRM on the Pipeline (sales funnel) function. You will see in it:
how many orders are in which stage of the sales process
and what potential profit flows from them.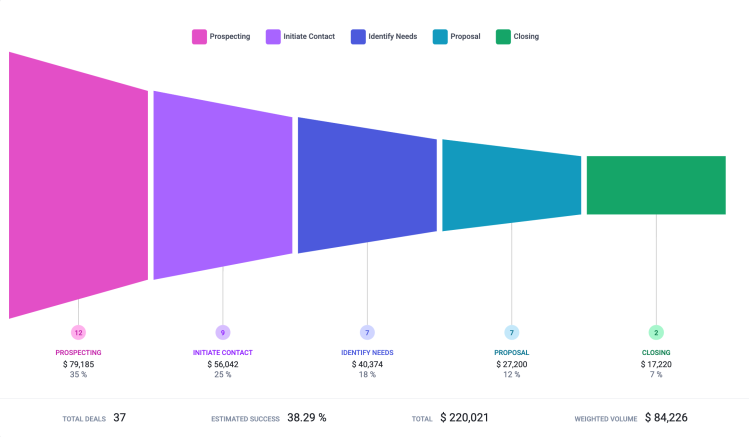 From Pipeline, you can find out, for example, how many potential clients are currently in the lead phase, how many have completed their first business meeting, or how many you are waiting to sign a contract with. This makes it easier for you to estimate the profits you can expect in the near future, and you know what you need to do to move each order to the next stage.
So before you buy a CRM, try the trial version to see how clearly it displays data. For more tips, see our article on how to choose the best CRM.
4. Simple but fine-tuned features
Simple CRM can do wonders in kick-starting a business with just a few key features. For example, in our RAYNET it is:
address book,
records of business cases
and business calendar.
Businesses will make their work more efficient by:
In the contact database, they record leads, clients and everything you have done with them, from e-mails to documents and orders to meeting minutes.
In the records of business cases, they keep track of pending orders, and the company knows who is working on which order, how much money it can make, what its condition is, and how to move it forward. It also easily creates reports and documents for clients.
And thanks to the calendar, he will keep a clear head. Directly from the event, they click through to the history of the order, to the information about the people present from the client, or directly plan follow-ups.
So if you're looking for a simple CRM, look for one that has a few features, but is perfectly tuned to make the salesperson's work more efficient.
5. Intuitive mobile app
A CRM with a mobile application is a necessary foundation today. When you're traveling for meetings, you don't want to keep opening your laptop.
The app should be as simple and user-friendly as the CRM itself. And to have functions intended for the terrain such as:
the ability to make phone calls and write SMS directly from the address book,
notification of deadlines,
navigation for travel,
uploading photos (e.g. flipcharts from meetings)
and a recorder for notes.
6. Integration with other tools
You can connect a simple CRM with all the office tools you use for business in a few minutes.
CRM companies most often connect with:
project management tool,
accounting or invoicing system,
company calendar,
e-shop
or email tool.
The integration should not require the assistance of an expert and should be done by everyone. It typically works by generating an API key in the settings of one tool and inserting it into the settings of the other.
Connecting to tools will open up new possibilities for you in CRM, and you will get rid of unnecessary clicking and mutual rewriting of information. For example:
you create and send invoices from CRM and you do not need to open the invoicing application,
orders from the e-shop are automatically downloaded to your CRM
and you will see the results of the campaigns for each client without having to open the email tool.
Try a simple CRM for yourself
The best way to find out if CRM is simple enough for you is to test it yourself. Most CRMs offer a free trial version that you can test thoroughly. For example, try our RAYNET CRM, which fulfills everything mentioned in this article and is popular with both small and large companies.